JARA Systems (ATRS/SPL)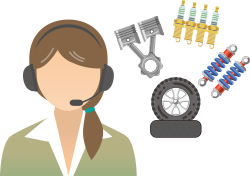 The JARA Systems are purpose built for parts sales and incorporate recycled automotive parts sales know-how.
They enable the search, purchase, and sale of recycled products that meet the quality standards set out in JARA Corporation's operation and management rules.
Wide array of system capabilities
Tablet support

As well as PC, the systems support use with a tablet device.
Enable registration of images of parts, including at vehicle delivery, and deliver large-scale job streamlining.

SNS-linked parts notification

This service sends details of products found on the system to SNS messenger apps on smartphones and tablets.
Automatically generates dedicated URLs of screens supported by mobile devices, enabling multiple product suggestions.

Vehicle estimate tool

An information service that automatically calculates an estimate for reference when buying a vehicle, based on past logistics data for the recycled parts network managed by JARA Corporation.

QR vehicle registration certificate system

Enables vehicle registration certificate reading with QR scanner. Delivers labor-savings when registering vehicle information by complementing missing information with system vehicle masters, in addition to vehicle information already obtained.

Parts donor capability

Enables the system to automatically suggest what recycled parts to produce based on sales and inventory turnover data.
Achieves highly streamlined parts production by presetting parts donor filters to automate the process.

Genuine product number guide

Using a database of genuine product number information built up in the system, this guide supports genuine product number searches when registering products and retrieving inventory.
Saves on time and effort searching through the catalog, so delivers productivity and streamlining.

Auction tool

This service allows batches of registered parts information to be posted on major auction websites.
Enables work streamlining with the capabilities to check the status of possible bids on the system and supports inventory information changes and automatic balance checks.